Shareholder, Co-Chair, Municipal & Government
Overview
Long before earning his law degree, George Morris had an interest in local government operations. As a municipal manager and as a member of the municipal utilities authority, George gained first-hand experience of the complexities and challenges facing local government administrators. He also served as a legislative staff member in the United States House of Representatives. This practical experience provided a natural segue into municipal and government relations law.
George presently serves as township solicitor for Southampton Township, Mount Laurel Township, Springfield Township, and the City of Brigantine, board solicitor for Franklin Township Fire District #3, Haddon Township Fire District, Harrison Township Fire District, the Cherry Hill Fire District, and multiple fire companies, as well as municipal prosecutor for multiple municipalities in Burlington County, and Special Counsel to two major universities for Public Records matters.
George has extensive experience with handling complex matters concerning all aspects of municipal, fire and school district governmental matters. He has unique expertise in multiple areas including handling public records and public meeting acts compliance, open space initiatives, acquisition, and regulatory oversight helping clients work through administrative hurdles to protect and preserve open space, recreation, farmland and historic locations. George is also frequently requested to handle complex matters regarding the New Jersey Open Public Records Act and matters pertaining to New Jersey election laws.
With George's extensive practical and legal background in municipal government he is frequently requested to intervene on complex bidding challenges and contract reviews involving government entities. He has represented both public and private clients in litigation involving public bidding and contract laws including the New Jersey Local Public Contracts Law and the Public Schools Contract Law.
George's hard work on behalf of clients has resulted in positive rulings and dispositions before the NJ Supreme Court; the NJ Council on Unfunded Mandates and at the NJ State House Commission.
George is a frequent lecturer on Open Public Meetings Act and Open Public Records Act, Election Law and other local government issues.
Honors & Awards
Recipient, Burlington County Regional Chamber of Commerce and

Burlington County Times, Class of 2017 Emerging Leaders
Professional Activities
Burlington County Bar Association
New Jersey Institute of Local Government Attorneys
New Jersey State Bar Association (Past Chair, Local Government Law Section)
New Jersey State Municipal Prosecutors' Association
Burlington County Chamber of Commerce, Past Chair of Government Affairs Committee; Member, Military Relations Sub-Committee
Community Activities
American Red Cross, Southern New Jersey Chapter (Board Chair)

Executive Committee, 1st Vice Chair, Mission Committee
Experience
Experience
Represented Southampton Township with respect to seeking invalidation of a state unfunded mandate concerning municipal payment for state rural police service. George was successful in helping convince the New Jersey Council on Local Mandates to void a section of the state budget, which would have resulted in a fiscal crisis for most rural municipalities in New Jersey.
Obtained State House Commission approval for complex diversion application to remove restricted lands from state encumbrance and allow for affordable housing development and preservation of historic property.
News
News & Speaking Engagements
February 5, 2022

|

9:00 a.m. - 3:30 p.m.

New Jersey League of Municipalities

Parker McCay Attorneys to Present CLEs at NJLM Conference, Nov 19-21

New Jersey League of Municipalities

Introduction to OPRA from the Government Perspective

February 1, 2019

|

1:00 p.m. - 2:40 p.m.

Advance Learning

George Morris to Present at Techspo 2019

January 31, 2019

|

1:30 p.m. to 2:30 p.m.

New Jersey Association of School Administrators

George M. Morris to Present at Local Government Law Seminar

December 13, 2018

|

9:00 a.m. to 5:00 p.m.

New Jersey State Bar Association

Parker McCay Attorneys to Present CLEs at NJLM Conference, Nov 13-15

New Jersey League of Municipalities

Municipal and Government Attorney, George Morris, to present this "Lunch n Learn" Event

February 6, 2018

|

12:00 p.m. to 1:30 p.m.

Burlington County Bar Association

Understanding OPRA and OPMA

George Morris Lectures on the Open Public Meetings and Open Public Records Acts

New Jersey State Bar Association

George Morris Presenting at Government Law Program

December 12, 2014

|

9:45 a.m. - 10:30 a.m.

New Jersey Institute for Continuing Legal Education
Articles
Articles
Parker McCay Blog

,

July 30, 2020

Parker McCay Blog

,

July 1, 2019

Parker McCay Blog

,

June 18, 2019

Parker McCay Blog

,

April 8, 2019

Parker McCay Blog

,

August 15, 2018

Parker McCay Blog

,

June 1, 2018

Parker McCay Blog

,

May 17, 2018

Parker McCay Blog

,

April 12, 2018

Parker McCay Blog

,

February 21, 2018

Parker McCay Blog

,

November 30, 2016
Public Records
Public Records
George Morris is a recognized expert on the spectrum of issues related to the New Jersey Open Public Records Act, the common law right of access and the federal Freedom of Information Act.
Prior to joining Parker McCay, George served in a major municipal clerk/manager office. He has years of practical first-hand knowledge to assist clients in fielding public records questions, records retention guidelines and document preservation concerns and when permitted by law, document destruction decisions. This expertise is critical, especially in public records cases, where fee shifting provisions may result in substantial fees against the public agency where access was denied.
He services as a frequent lecturer to municipal officials and lawyers alike on issues concerning public records issues. George begins with the basic foundation of determining whether a request is valid through the ultimate release of responsive materials or the denial of a request. From the initial request to cases which yield thousands of documents responsive to a request, George provides clients with critical guidance through the entire process. He specializes in cases of first impression regarding the right to redact, student records, body cameras and multi-media electronic communications balanced against the rights of privacy of personal information that may be contained within public records.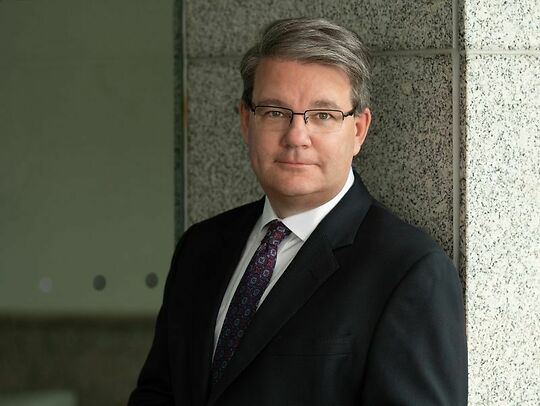 Practice Areas
Education
Rutgers University School of Law (J.D., 2005)
Rutgers, Graduate School of Policy and Public Administration (M.P.A., Public Administration, 1998)
Rutgers, the State University of New Jersey (B.A., Political Science, 1993)
Admissions
New Jersey
Pennsylvania
U.S. District Court, District of New Jersey
U.S. Court of Appeals, Third Circuit